Most of us sit at a computer for a minimum of 7-8 hours a day. With technology that has taken over our lives we often look at our cell phones when we aren't staring at a computer screen. To make matters worse… if you aren't looking at a computer or cell phone, chances are you're watching TV! Electronics that emit blue light have literally taken over our lives. 
I work on a computer 7+ hours a day and park at a computer every evening for another 4-10 in the evening to work on websites and my YouTube channel. After a full day of work, my eyes were tired and I would dread coming home to sit at another screen. I have been on the hunt for glasses that reduce blue light and eye strain for a while now. Spektrum reached out to me and asked me if I was interested in trying their glasses. I swear when you put stuff out in the universe…. it just comes to you (if you don't know what I am talking about you need to read "The Secret")! I enthusiastically accepted the offer and eagerly checked the mail until their arrival.
Pair one: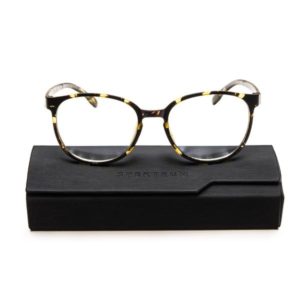 Artist These glasses reduce 50% of the Blue Light that comes from screens. I find these to be the perfect daytime/office glasses. They are super lightweight, I often forget that I am wearing them! There is a slight yellow hue to them and appear to have a blue shade when looking directly at, but not through them. The yellow hue does not distort images. The frames are nice and wide and these do not pinch the bridge of your nose.
These retail for $39.95- Check them out here!
Pair two:
Elite I don't know how I lived without these. When doing research, these are the glasses I was most interested in because they block 99% of Blue Light and are an excellent choice for late night reading/scrolling on your phone/working on the computer. I struggle with falling to sleep and these have totally changed my life. Very lightweight. No pinching the bridge of my nose. Wide frames that don't drag when putting on or taking off. These retail for 55.95 and are worth every penny- Check them out here!
Design: I really like that the frames are wide. I have a wide face and always struggle to find regular frames for daily wear. This could potentially be an issue for those with very narrow faces. There are no nose pads and the frames are not metal so there are no ways to make adjustments if needed. If the frames do not fit out of the box then this can be stressful for some. Before you get upset- this is also a way to keep the cost down, making these more accessible to a larger crowd so please read next paragraph before clicking x.
Return Policy: I love it when companies offer great return policies, especially when their products are not in stores where you can try before you buy. They will honor refunds up to 60 days if you are not satisfied, less the cost of initial shipping.
Warranty: You get a 1-year warranty!!! Just another reason to give Spektrum a try- I have not found a lot of companies that sell Blue Light glasses with a warranty.
Pricing/Value: I believe these are competitively priced considering warranty and quality. You get a lot for the money considering the hard case, cloth, frames, and lenses.
Comfort: These are very lightweight, I often forget that I am wearing anything. Again, I have never experienced any irritation on the bridge of my nose, tightness around temples, or dragging while putting them on or taking them off. I literally wear these all day at work and during the evening too.
Effectiveness: By the end of the workday my eyes do not feel tired like they used to. These have helped greatly with the strain I used to feel. The biggest impact these have had on my life is with my sleep. I never realized how much looking at my phone and computer disrupted my sleep schedule until I got the Elite glasses! I no longer have to struggle to wind down in the evening, If I had to choose one pair of Blue Light glasses it would be those.
Overall: I have nothing but good things to say. I never realized how many screens I look at and for how many hours until I became more conscious of it. I can't imagine my life without these glasses now. I think Spektrum did a wonderful job creating an affordable solution to a modern-day problem. If I had to choose one pair of Blue Light glasses, it would be the Elite glasses because they have had the biggest impact on my life. My quality and sleep time has improved with these dramatically. To check out what all the hype is about GO HERE!
**Disclaimer: I received these glasses for free in exchange for my honest review. I was not paid to post this review and receiving these did not sway my decision.
Spektrum- Prospek Glasses
Pros
Very comfortable to wear. Does not feel heavy or pinch bridge of nose.
Come in a wide variety of styles.
You can buy clip-ons if you don't want to buy a pair of frames, or wear glasses.
Affordable.
You can return if not satisfied within 60 days!
Cons
Can't try before you buy at a store.
No options for width- one size fits all.