Dyson Supersonic Hair Dryer Review
Is a hair dryer worth $400???
I know I am late to the game with this one but better late than never right? It took me a while to get my hands on this hairdryer because I refused to fork over $400 for a hairdryer, especially when there are so many amazing ones on the market at half the price. I had a 20% off coupon with Ulta that knocked off $80.00 and then cashed in all of my points which took off close to another $200.00. I ended up spending the same amount I would have on one of those other hair dryers… but full cash price. So was it worth it???
I always like to talk about the good before going into the bad, it softens the blow.
Pros:
Drying time: It cut my drying time down by approx 10-15 minutes. Any time saved is a positive in my book. This may also be due to the fact that my old hairdryer was 10 years old and on the fritz so I don't give a lot of weight to this measure.
Form factor: this is easy to travel with as it is small in comparison to a standard hairdryer.
Sound: They say this thing operates at an inaudible frequency. I have a hard time saying that this is very quiet but this is, without doubt, quieter than other high-end hairdryers on the market.
Power: It's incredible how much air comes out of such a small device. This thing does not disappoint when it comes to air flow.
Long Cord: Lots of cord so you can move around!
Cons:
Price: I had to state the obvious first! This device costs just as much as my vacuum cleaner! There are so many other amazing hairdryers available for literally half the price!
The Attachments  I know everyone on the internet is raving about the magnetized attachments… that's because they haven't experienced a problem with them and are in the honeymoon phase. *See "SNAFU story" below for more info.
Customer Service: After multiple calls and emails with customer service, I can confidently say that you will get a different answer every time, be told no a few times before you hear yes and there are a lot of reps that lack serious customer service skills.  *See "SNAFU story" below for more info.
Button Placement/Operation: I can appreciate why Dyson chose to place the buttons the way they did and why they excluded additional buttons. However, the clean look and lack of buttons make for very awkward adjustments. The power and cold shot button are perfect. My gripe with their buttons is: to adjust the heat or fan speed you literally have to button through all the speeds/temps to go up or down. If you are on the lowest heat setting and want to get to the middle setting you can simply push the button once; however, to get back down to the lowest setting, you literally have to button up to the highest setting and then back down. Had there been additional buttons to go forward or back through the settings or a toggle switch like what has been used for years, this whole situation could be avoided. Additionally, the location of the buttons looks cool but if you are doing your own hair you literally have to stop and look at the buttons to select the speed/heat you want. If you are a hairstylist and are looking down, this will probably not bother you as much.
SNAFU Story: I decided to try out my new hairdryer while filming a video for my Youtube channel. While showing off the magnetized attachments, I realized that the smoothing nozzle was not magnetized! I could have brought the dryer back to Ulta, but this wasn't their issue. I called Dyson the next day and they told me that they would not cover this. Apparently, the warranty only covers the hairdryer itself, not the attachments. If I had the dryer for a while, I can see their argument for this. However, this thing hasn't been out of the box for more than 24 hours! I sent an email and explained the same. After almost a month of emailing and calling once a week, I FINALLY got someone to send me a new smoothing nozzle. I am not normally this obnoxious. However, right is right! Also, I forgot to mention that one customer service rep told me they could not send me a new nozzle but I could buy one… which would have cost me $20 + $10 shipping. I just about lost it when a customer service representative told me I had to pay $30 to fix an issue with a $400 product! So Dyson made it right but I had to do a lot of work to get my issue fixed.
Would I buy it again?: I would never pay full retail for this item. If you could get a coupon and couple it with rewards to cut down the cost then I say go for it. There are a lot of excellent hair dryers out there that do just as good if not a better job at half the price. This will not do anything magical for you. It does a good job and serves it's main purpose very well. However, my last dryer cost $150 and served me for 10 years. At $400 this better last me 25 years to compare in value, I doubt it will but a girl can dream can't she? The warranty is decent at 2 years, but nothing over what a lot of other manufacturers offer… it isn't really the best considering Elchim offers a  lifetime warranty!
My personal recommendation is to save your money and pick up the  Elchim 3900, half the price at $200.00 and comes with a lifetime warranty!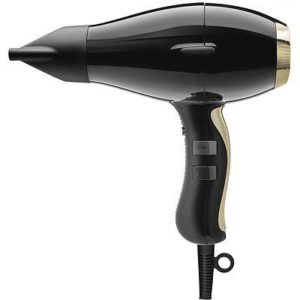 Disclosure- I did not receive compensation for this post. Any and all opinions shared are my own.
Dyson Supersonic Hairdryer
$399.99
Pros
Quieter than other high end hairdryers.
Weight is evenly distributed.
Air intake is at bottom so you don't have to worry about hair being pulled into back.
Compact size is easy for travel.
Length of cord is nice.
Cons
Customer service is lacking and you have to do a lot of work to get a favorable result.
Magnetic attachments are expensive to replace and can only be purchased through Dyson.
A lot of other hairdryers as efficient at half the price.
Button Placement/Function- heat and fan buttons are not easily accessible while in use and you have to button through all of the speeds/heats to adjust.