I have never been one to follow Instagram trends but two years ago when scrolling through my feed I came across these #blacklabeldonuts. I am originally from Bayside, Queens and this company pops up at a restaurant called Nipponcha (scroll to the bottom for address) on Sunday ONLY… and not every Sunday, you must follow their Instagram to see when they will be at the restaurant.
These confections are created fresh and in a limited supply. The menu is always changing so your taste buds will never get bored. Creations to be sold are announced throughout the week prior on their Instagram page @blacklabeldonut. There are a few staples that I see pop up on a regular basis (more on that below), but overall there is sure to be something to satisfy any craving.
*I highly recommend checking their Instagram page prior to going because major holidays are observed and they are human and need days off too.
I don't know how many trays of donuts they keep in the back but a few shelves were re-stocked while I was in line. I showed up at 11:30 and there were signs that many had come before me. Get there early if you want to get the biggest selection. Also, please note that they are there until 5, or until they sell out.  Now let's get into this delicious I goodness!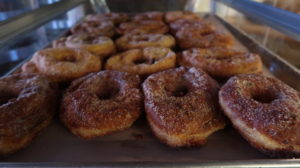 I wish I had more photos of this beauty to the right. This Apple Bacon Donut didn't make it to the box, I literally ate half while paying and the other half on the walk home!!! This was one of my favorites and had I known how good it was, I would have purchased another. The bacon was not overwhelming, more like implied with small bits infused. The apple flavor is what I noticed the most thanks to the jelly filling inside. This one is like an apple pie with a twist.
As I mentioned earlier there are a few items that make a frequent appearance. The Matcha Pistachio Creme Brulee donut is something I have literally dreamt of eating.  Matcha fans rejoice, this is totally worth every calorie!!! This was a tie for the top spot against the Apple Bacon donut <3.
The top has a crunchy layer of torched sugar with Matcha dusted on top. The Dough is airy and soft, much like a zeppole. The cream on the inside is heavenly. You can really taste the green tea, there is a slight bitterness but it is perfectly balanced from the sweetness in the dough and torched topping.
The Amaretto Tiramisu donut is not as rough as its exterior would have you to believe. The outside was coated with crushed Amaretti and little bits of almond.
The inside, filled with a beautiful Amaretto Marscapone Custard. I found this one to be creamy but not heavy, the dough was light/airy (despite looking dense in the photo).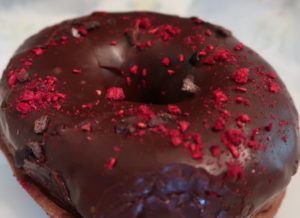 Last but not least, the Triple Chocolate Raspberry donut. This is a light/airy chocolate donut with Chocolate frosting and crushed freeze-dried raspberries on top.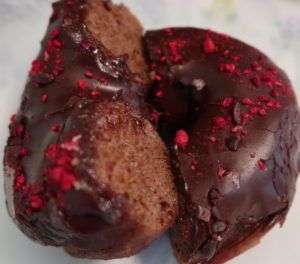 This is probably the safest choice I tried. There weren't any daring funky combinations like the ones above. The chocolate dough was surprising light. The chocolate topping is what really added the chocolate flavor to the donut.
Pricing/Payment: They do not accept credit card, be sure to stop at the ATM and at least bring a 10-20 depending on how many donuts you are buying. The price of the donuts varies depending on what type you get. Please note, these are not like Dunkin Donuts so be prepared to pay a little extra… you get what you pay for people.
Overall, I am very satisfied with my first Black Label Donut experience. As mentioned at the beginning of this post, I have followed this company for years and always seemed to miss them. Living away from NY, I generally travel home during the holidays, which is why I missed out on these so many times. I went to NY one week before Thanksgiving and that's how I got to dig into these delights :). I seriously hope they have the apple bacon and matcha creme brulee donuts the next time I am in town <3.
If you are interested in trying these out:
Follow them on Instagram @blacklabeldonuts;
Stop at the ATM the night before or morning of before arriving;
Get to Nippon Cha early!!! they are open from 11-5 or until they sell out;
Take pics and tag @blacklabeldonuts and me @thecriticalvirgo;
Hashtags too!!- #blacklabeldonuts :);
Come back and let me know what you thought.
Nippon Cha
39-34 Bell Blvd
Bayside, NY 11361