As we approached October 22, 2017, my nerves started to grow. Having only participated in local races, I was faced with a lot of new challenges with food/hydration/sleep/transportation. I had quite a bit of time to make a game plan for this as I registered one year out from the race. I have friends and family that participated in this race which totally influenced my decision to sign up after all the great WOM! Weeks prior to flying out I scoured the internet looking for anything Marine Corps Marathon related, hoping to find info/tips & tricks only to come out empty handed :(.  So I decided to create a post with all the information I wish I knew in advance.
Timestamps:
Getting there: 00:49.00
Expo: 2:58:00 – 9:26.16
Uber Woes: 1:52:15 / 11:41.00 – 13:01.00 /
Merch/Swag: 3:55:05 – 8:15.02
KT Tape 8:14.02
Food/resorces around the expo: 9:27- 9:49.17
Food takeout/delivery: 9:50.15 /
Getting to the start line: 11:00 – 14:51.05
Race details: 14:51:00-
Miles 1-3: 16:30
Miles 3-4 Roslyn view of Georgetown: 18:05.00
Miles 5-7 Basin Washington Mon/Linc: 18:30.00
Miles 10-11 aka Wear Blue Mile: 18:48.07 – 21:18
Mile 11-12: 21:31.14
Mile 16-17 Washington Monument: 21:120.06
Miles 18-19 Capitol Building & Peace Monument: 21:30.00
20 Mile Bridge!!!: 21:49.21
Miles 21-24 Crystal City 22:20
Miles 25-26: 23:27.11
26-26.2: 24:45.22
Support on course: 25:52.03 & 29:18.03
Nourishment at end of race: 28:03.06
Overall: 30:00
Tips: 13:09.00 / 31:08:04- 33:15.24
Pics and Vids: 33:49.06
Getting there: Due to time and financial constraints I left Ft. Lauderdale on Saturday morning for a race on Sunday.  Waking up at 4 a.m. totally sucked, especially knowing that I had to do the same the next day! I made it to Arlington, VA around 10 a.m. and met my friend who flew in from upstate N.Y. We hopped into an Uber and made our way to the hotel. The hotel advised that check in was not until 4 P.M. We left our bags at the front desk and picked up another Uber to the Gaylord Convention Center.
Expo/Swag: It was kind of hard to find where the expo was because the Gaylord Convention Center is massive and they had multiple events going on the same day. Luckily there were a lot of people with bags from packet pickup, so we traced them back to where they came from once we got our sights on them. When you walk in you see a line of booths with bib numbers broken down into groups. You go to the booth your bib number falls in and a Marine will hand you pins to secure your bib, race bib, booklet with race day info, and an iron-on patch. There are two different shirt pickup areas because there is a 10k race on the same day as the marathon. The marathon shirt was an interesting salmon color, the 10k shirt was a cool grey one. After you get your shirt you turn the corner and are greeted by the largest booth Brooks. The expo started on Friday and they must have run out of certain shirts on the first day, if you can't make it to the expo on the first day, have no fear, you can always buy styles online after the event. I was a little disappointed in the fact that they had different gear for men and women. There were a few shirts for men that I loved but couldn't fit into even in the smallest size available. One of the Brooks employees told me that the marines control the products available. I picked up a ton of cute tanks, shirts, and a visor and went on to the rest of the expo.
My friend got tapped at the KT Tape Booth. They did an okay job, I had to redo certain areas back at the hotel with her Rocktape. Considering it was a free (they charged for certain areas like feet but legs and backs were free) service, and they were totally swamped, they did an okay job. If you are adamant about using tape I would recommend having a physical therapist or friend apply it.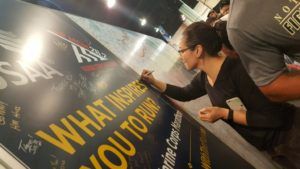 There was a wall to sign, handmade art from soldiers, Disney, Wear Blue gear, Fitletic belts, as well as all the other usual suspects selling running gear and memorabilia stickers/jewelry.  Overall, the flow of the expo was good and there was plenty to see/buy. My one and only complaint- to go to the restrooms- you had to leave the expo and go through the whole entry area as there were no inside restrooms and only one way in & out.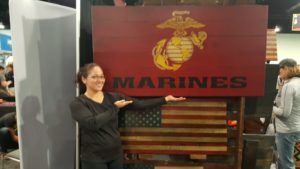 Lodging: You can get discounted rooms with a special rate through the Marine Corps main page. I recommend booking a room as soon as they open up. Obviously, the ones closest to the event filled up first and cost the most but it is totally worth it. We ended up staying at the Hilton Garden Inn in Washinton DC, 4 miles from the race start. A great budget hotel compared to the others offered and last minute booking. However, the next time I return for this race I will stay budget better and stay in Crystal City. See "Getting Around Town- Uber/D.C. Woes" and "Food/Hydration" for more info.
Getting Around Town- Uber/D.C. Woes: Do not, I repeat … DO NOT Uber on race day! We took 6 rides and only one driver was from the D.C. area. A lot of drivers come in from Maryland and Virgina to work because of how dense the city is. Unfortunately, the District of Columbia has a lot of little side streets that GPS just hasn't learned how to navigate. If you are not in a rush then Uber is a good option, a frustrating one.. but a good one.  The Metro is another option but it can take you way out of your way adding a lot of time to your trip, so look at the map to decide what the best option is. DC has a lot of lights, and there was a lot of traffic because of all the people in town for the race. I would not recommend driving your car and parking there because at our hotel it was $36.00 a day just to park, not including all the parking fees to pay around town.
Food/Hydration: If you are not staying in Crystal City then you really want to listen to this section. If you were lucky enough to snag a room in Crystal City, then just relax and enjoy because you have a TON of restaurants and stores nearby where you can get water and food. We stayed approximately 4 miles away from all the action and the closest place to eat was about a mile down the road at a Wendy's. After getting our packets and eating near the Gaylord Convention Center, we went to CVS to get water, I highly recommend you stock up while you can there because there are a lot of other people doing the same to avoid paying big bucks for bottled water at the hotel. I scoped out the area we were staying and noticed that there were no places to buy bagels for breakfast. I switched to a Ketogenic diet for this race so that didn't impact my food prep, but it did for my friend. The hotel didn't open breakfast until 6 a.m. so I advised my friend to pack a bagel and some peanut butter for race morning.
The night before and after the race we used Yelp to help us find a place that delivers food. Delivery on both nights was slow. One worth calling out was Papa Johns! The reviews on yelp said they can take up to two hours to deliver and that was less than the 2 1/2 we had to wait…. mind you the place was just under a mile away from our hotel. They made things right and refunded our money… but c'mon man!
Race Support/Crowd: The race support is the best I have ever seen! There were plenty of medic/aid stations with necessities like ice, band-aids, and sticks with vaseline on the end :). I was really looking forward to a nice cold race, I always run faster and more comfortable in cooler temps. However, I must have brought the heat from Florida up with me because it was hot hot hot! The mercury rose close to 80 degrees. There were a lot of people who passed out or got sick from the rise in temps. The medics and staff handled the unexpected challenges like pros. I would have liked to see another water station added in the later miles. They had a station every two miles and I cruised along with my camelback, but I know the people who didn't carry a water bottle were hurting a bit.
The crowd support is like none other! You seriously do not need headphones for this race. I had mine in because it notified me of my walk/run intervals. The crowd is thick and the cheers are so needed and welcome. I hung back in one of the later packs and the crowd was still going strong! There were tons of hilarious signs along the course like "don't trust a fart past mile 5″, and support from people who just went there to cheer people on " I don't know you strangers but I'm proud of you". The crowd is something that I heard excellent word of mouth about and once I got the chance to experience it, I totally understand what all the hype about this race is. Having such and incredible first marathon experience brings a few new problems: 1) Small local races will not be as exciting, they will be gratifying mileage wise but.. boring and 2) You will have the marathon bug after this one… and searching for another race that compares will have you chasing other big city races like Chicago/NYC… and might even spark something to work toward like Boston.
Oh, the things you'll see: We missed part of the opening ceremony.
There were parachuters that we saw as we walked up to the corrals.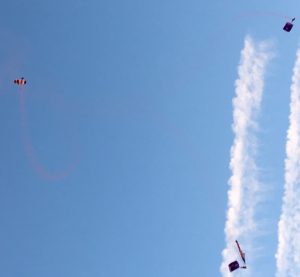 An Osprey V-22 Flyover!
The Starting line is very thick- it took over 20 minutes to get to the start line!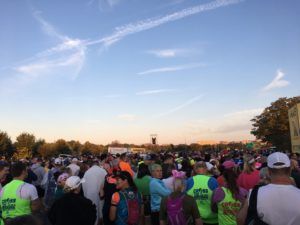 One of the Most beautiful scenes is when you come through Roslyn and see Georgetown across the Potomac River.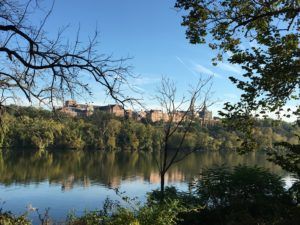 There is this point over a small bridge where you are at the water basin and you have the perfect view of both the Washinton Monument and Jefferson Memorial-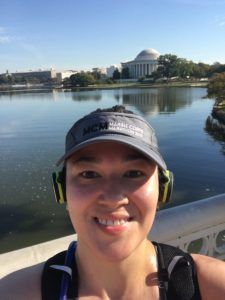 Wear blue mile Mile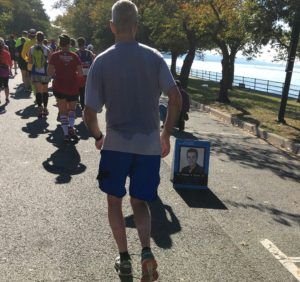 Washington Monument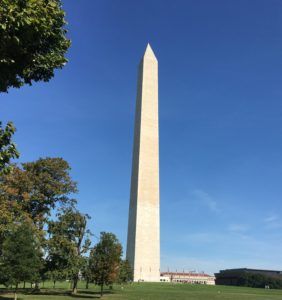 The Capitol Building & Peace Monument!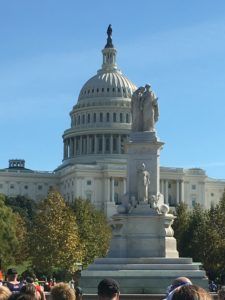 After the Capital building you turn onto a street where you pass by the DC National Gallery of Art, Museaum and you also pass the Smithsonian National Museum of American History- there is footage in the video passing by it with one band playing "eye of the tiger"
The two things you will see over and over are the Washington Monument and Jefferson Memorial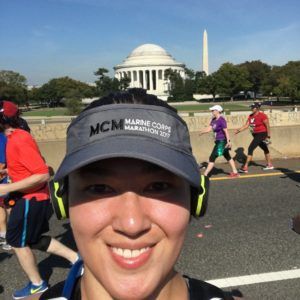 Before I knew it we were in the home stretch… but marines being marines… nothing can be easy- the final bit to the finish line is on a small hill… but any hill hurts after 26 miles!
You are rewarded with the honor of having a Marine place a medal around your neck… after waiting in more lines 🙂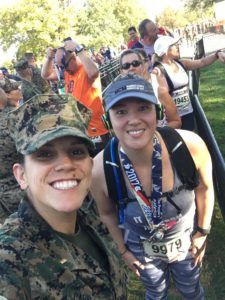 Overall: This was one of the best experiences of my life. I have officially been bitten by the marathon bug. Traveling was stressful and liberating. I made a pact with my friend that we would pick one destination marathon a year and room together. I can't wait to see where we end up next year :). Don't forget to subscribe to my youtube channel and website feed to stay up to date on where we end up! Oh… and let me know if there are any races you would like to hear about.
TIPS:
Don't fly in the day before the race. There is so much to see that you will be exhausted and regret not taking in all the beautiful history/scenery/exploring town.
Use the restroom before entering the expo- you want to walk as little as possible before the race, having to walk through the whole thing twice is an extra time too many!
Book your hotel early! I would recommend staying in Crystal City as they have so many things to do in the area and it is close to everything race related.
Do not take an Uber to the starting line. There are so many road closures and drivers from Maryland and Virginia that just don't know the streets well enough to get you where you have to go.
When training for the race, don't just prepare your body for the 26.2 you have to run, you have to think about all the miles you have to walk before and after the race. Plan for another 3 miles of walking on race day.
If you are not staying in Crystal City- use Google maps and zoom into the local area to see what shops/restaurants are around you. My friend thanked me race morning when she had a bagel with peanut butter to eat.  You will want to bring and/or buy food wherever you can. Also, stock up on water whenever you can at stores like CVS, remember a lot of other people are on the same mission.
If you can avoid driving to DC I would. I know I said some mean things about Uber, but they saved us a lot of money in parking fees around town and at the hotel!
Buy clothes that you don't mind tossing away and donating to charity. I would also suggest bringing a light blanket to sit on at the corrals to shorten the time on your feet.
Take the first 3 miles of the race easy- they are on an incline and you don't want to burn your legs out at the beginning… remember this is a marathon, not a sprint! 
If you live in a are that has a flat terrain… work on some hills! Do it on a treadmill if you have to. I was not prepared for them.
Ohh…. and don't forget to HAVE FUN! 🙂