BTS Pro- The Best Bluetooth Sports Headphones?
What if I told you there was a pair of headphones you only have to charge once every 40 hours... with awesome reception?
I went on a search for the ultimate headphones. Tired of throwing my money away on options that were uncomfortable, terrible reception/audio quality, battery life left much to be desired, etc. I went to Google…
I have gone through multiple pairs of headphones: cheapies from TJ Maxx- MVMT S7; NoiseHush- NS560-11978; Samsung Sport Sweatproof; Beats. It didn't matter how much money I spent, the end result was always the same…. disappointment. Admittedly, I purchased most of these on a whim, I have myself to blame for that. I wanted to find a pair of headphones that fit all of my needs and I finally found it.
Comfort: The scary thing about purchasing these is that they aren't available at a local store where you can try them out. You get free shipping and returns, so you could always try them out and return if they really aren't for you. I have read mixed reviews so as with anything you will have to try them to see how they feel.
Over the ear headphones can go wrong really quick, rubbing on the wrong parts of your ear, feeling heavy after a long time.Weight was a major concern for me as I am training for a marathon and wanted something I could wear for 4 plus hours. Weighing in at only 83 grams, I barely notice these. For the average person, these will be incredibly comfortable for active wear. I have hung upside down from a bar without these falling off, they do not get in the way when exercising, they do not rub or feel heavy for short to moderate periods of wear. I like to think I have an average sized head and these apply slight pressure on your ears to keep the headphones in place. I have worn these for 4 hours and this is where you might get into trouble- yes, they are comfortable… however, if you sweat a lot they can start to slide and feel a little heavy on the top of your ear. I have never experienced chafing.
Another important thing to note is that the back of the headphones don't rub or bounce on your neck (I hate that and have returned similarly designed earphones for same).  *One annoying thing for women with medium to long hair is – if you wear your hair in a ponytail or braid you will feel and hear your hair banging on the back of the headphones… ugh!
Applications/Bluetooth Compatability: These headphones are compatible with all Bluetooth enabled devices.  I often throw these on to listen to music as I work away late night on my Windows Computer. There is an application that you can download on your phone for even more control. Unfortunately, at the moment they only have an application for iOS, Android and Windows users get no love in this department. If you are iOS compatible and have an Apple watch, you can control music 
and your headphones through your watch!
 If you are someone that is always misplacing your expensive goodies then you need to stop reading and just order yourself a pair of 66Audio headphones. They have an awesome feature with one major flaw. If you misplace your headphones you can use the "Find Headphones" feature. Once you engage this a sound will emit from the headphones. The longer the feature runs, the louder the sound gets. The flaw? Your headphones must be paired/turned on to use this feature. This works if you just put them down for a minute. If you had them turned off in your house then you're SOL.
I just want to touch back on Android and Windows OS apps- I can understand why there is only an application at the moment for iOS but I really hope the company makes an effort to create an app just as good for the other two platforms. Android especially as there are so many people who refuse to give Apple their money (I was one for a long time!!).
Sound: I am very impressed and pleased with the sound performance. Without making any changes to the settings the sound is loud and clear.  iOS compatible users get the added bonus of enhanced audio control through their phone. You can customize the EQ settings, apply different sound effects and enhance bass. The highs are crisp and clear. Bass lovers rejoice! These headphones pack a nice punch. If you made your eardrums bleed a few times in your life, have no fear, you can hear these as the volume is better than average! You can tell these were created with music enthusiasts in mind.
Design:  I have to admit, I was a little disappointed when I opened the box up. The photos on the website are gorgeous and the item in hand can come off as looking cheap. It isn't until you actually use the product that you can see the quality. The button controls are on the right side and they make a loud click in your ear when pressed. I do not like where the microphone is placed. The mic is in the front and because of that, you get a lot of wind noise when outside with these on. I also wish the speakers offered more rotation as this would fix comfort issues for many. They did an excellent job with the band that wraps around the back as it hovers and doesn't rub/bounce on your neck (scroll back up to comfort section about my only warning re: this)!
Range: 100-foot range? Yes, please! These seriously shine in this area. You can leave your phone in your gym bag and walk all around the gym without the sound cutting out. If you are into doing lunges or sprints across the room then you need to get a pair of these. Calls and music were crisp and clear no matter where I roamed.
Battery Life: 40 hours on a single charge? Can it be real? Yes, my friends, this is really true! This was a big selling point for me because all of my old headphones had anywhere between 5-7 hours and the longer I had them the shorter the life. I would get frustrated if I forgot to charge them every other workout and was left without music on multiple occasions while training for a half ironman and other races. I charge these once every 2-3 weeks. Not being a slave to a charger is so liberating. If you are on iOS then you can see the amount of battery that is left through the app.
Warranty: You get a standard 12-month warranty but if you join Club66 for free online then you get an additional 6 months free. There was no option to purchase an extension on the warranty at checkout.
Price: These will set you back $129.99, shipping included. I think it is fairly priced considering the quality, performance, and warranty that these carry.  These directly compete with  Beats Wireless headphones, Solo3's priced at $299.95 have the same battery life.
Potential Issues: There are two things that seriously concern me:
1) There are channels along the speaker portion that sits against your skin. This is hard plastic that doesn't allow for cleaning inside. Talk about an optimal space for bacteria and mold to grow…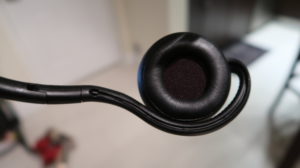 2) One of the screws by the pivot point for the speaker (mostly used to fold the headphones away) is starting to rust on me. I am not a heavy sweater so I can only imagine the damage someone else who is could create. I can see this being as a problem because when this happens to my glasses, it becomes difficult to open and close them.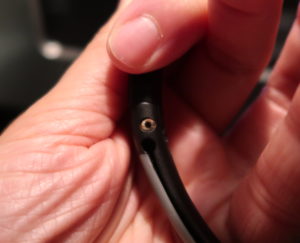 Overall: If you are in the market for a new pair of headphones, you definitely have to add these to your list to check out. Again, it kinda sucks that you can't go out and try these out before you buy. However, they have a great return policy. I have enjoyed great sound, battery life, reception, comfort, connectivity and most importantly, feel freedom with wireless headphones for a change! There are a few other models in their collection that are worth checking out if sport-headphones aren't what you are looking for at the moment. I have really enjoyed using this pair and hope they hang around for many years to come.
If you want to pick up a pair or check out their other offerings: https://www.66audio.com/
Do you own a pair? Thinking about getting a pair but have questions? Put your comments down below! 🙂
*This post is not sponsored. All opinions expressed are my own. I received no monetary compensation for this review.
Pros
You can walk far away from source and audio does not distort!
Battery life is out of this world. You really get a good 40 hours of straight use.
iOS users have a lot of control with audio and are always in the know with how much battery is remaining.
You get a standard 12 month warranty but if you join Club66 for free online then you get an additional 6 months free.
Audio is the best I have heard for active headphones, you can tell that music enthusiasts were behind the development of these.
Cons
No application support for Windows or Android users!
If you wear them for more than 4 hours and sweat a lot they can become uncomfortable.... but a lot of things get uncomfortable at this point :).
No way to try BEFORE you buy, there are mixed reviews re: fit.
They look better in the pictures online than they do in person.
A lot of open areas for bacteria and mold to grow, difficult to clean in tight places/rusting at screw/pivot points.