**Congrats to Aaliyah Olavarria- Please email me your address: info@thecriticalvirgo.com
Exciting news! I am hosting my very first GIVEAWAY!!!! I have been wanting to do one of these for quite some time now! I recently fell in love with PUR Cosmetics. I love the fact that their products are gentle and CRUELTY-FREE!!! I am a big supporter of companies that make an effort to protect our defenseless friends. Not only that, they give back to noteworthy causes and that is an awesome thing!
What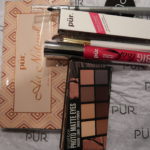 you can win:
Cease Crease – $18.00 .3 oz/10-g
Big Look Mascara w/Argon- $21.00
Mineral Eye Defining Pencil with Smudger- $17.00
Eyeshadow Brush- $16.00
Au Naturel Glowing Days Smoldering Nights – $29.00
Smashbox Photo Matte Eyes Mini – $25.00
100% cruelty-Free!!!!
Enter Giveaway: https://gleam.io/fb/z48Gv
I will be running this until March 31, 2017. Please comment below with your YouTube handle and let me know which item you are most excited about and why! =)
Goodluck to all!