Maybelline VoxBox- 24k Nudes
A full review on the VoxBox I received with Maybelline goodies inside!
Disclaimer: I received this VoxBox through Influenster for free in exchange for an honest review/opinion. All opinions expressed are my own. I have received no monetary compensation for this post or any other posts related to this box. If you are interested in earning free makeup in exchange for your opinion: SIGN UP HERE 🙂 !!
24K NUDES- 12 EYESHADOW PALETTE:
 FINGER SWATCH-DRY: left to right of palette- top row first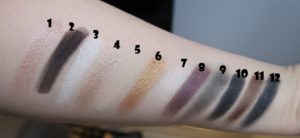 BRUSH SWATCHES DRY & FOIL: left to right of palette- top row first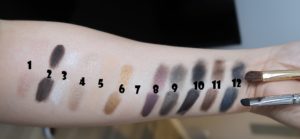 THE GOOD: I like the versatility that this palette offers. There are a wide variety of shades making it possible to create multiple daytime and evening looks. If you aren't a makeup pro, have no fear, Maybelline included a guide on the back showing 13 different ways to utilize the colors. This is a great palette for travel because again, you can create multiple looks with it. If you are new to makeup the colors are not overly pigmented, unless you foil or pack them on so you can work your way into a look that is comfortable for you. If you really pack your brush, go over a section a few times and/or foil them then you can achieve any look that you like. The average retail for this palette is $10.00, but if you may get it for even less through a lot of discounts that drugstores/Ulta offers. I have tried other Maybelline palettes and it was recently announced that they have reformulated their shadows to improve on pigment. I can happily confirm that they have improved SOME of the shades.  There are a few colors that seriously stand out
THE BAD: If you are a makeup junkie this will probably frustrate you more than satisfy your urge for a beautiful, versatile, travel palette on a bargain. The colors swatch beautifully. However, as you can tell from the side-by-side brush vs foil, you really have to work with these colors to get the look you want. For the price, this is to be expected, so if you go into using this with that mindset you will not be set up for failure. It is possible to create beautiful looks; however, if you are not familiar with how to work with the colors in the palette, you will likely remove and want to start over in frustration. The purple and shimmery khaki-green were the biggest disappointments for me- the purple is very muted and green comes off almost black. Some of the colors skip as you can see in the pictures above.  Other colors are non-existent. There are no shades that work well as a transition shade, you have to really buff out the brown matte shadow to get the looks you want.
OVERALL: If you are in a pinch and need a quick palette without breaking the bank this is a doable option. I have used these with color tattoos from Maybelline and the colors really pop with those as a base. The amount of wear and creasing really depend on the base that you use. This palette retails on average for $10.00. If you are really curious about it I would pick it up when it is on sale/a special buy one get one 1/2 off at many drug stores. However, in this price range, there are far better options. Maybelline has made many improvements with their formula. They have quite a few single shadows that are far superior to this palette as a whole. There were a few colors in the palette that performed beautifully; however, they are very common shades that I wouldn't have purchased this palette for. The colors that I was most interested in were disappointments: #s 8&9. There is a lot of skipping and fall out when not applied foiled or with fingers.
LASTING DRAMA WATERPROOF GEL PENCIL: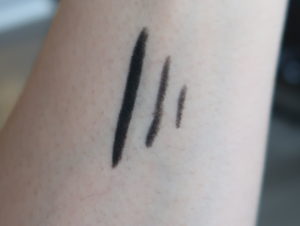 This is an excellent eyeliner! Prior to using this, the Rimmel Scandal Eyes was my favorite drugstore liner, this one is just as good if not better!
The formula is very creamy. This does not pull or skip.  Once dried down, this stuff does not budge! you can run your finger across it and it will not smudge. I have oily lids and this does not move and actually outperformed my old tried and true Rimmel liner with regard to wear time. I would compare this to MAC Fluidline performance! The retail averages from $7-8,  an excellent buy for the price.
FALSIES PUSHUP ANGEL: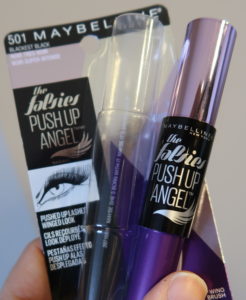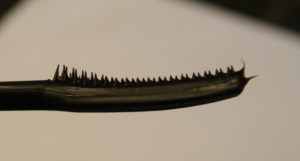 This has one of the most interesting brushes I have ever used.  At first I didn't know if I would like it, and the first few times of using it I hated it. However, with a little practice, I can see why they went with this design. My lashes curl naturally so I don't benefit much from the design. However, I can see how this can aid in lifting the lashes upwards. The bristles are very close together and this does an excellent job of separating and lengthening.  You can also achieve some great volume with this one with multiple passes. I really like how clean this wand stays, I have never had to scrape the brush to clean off excess, you get the right amount each and every time.  The formula went on smoothly and lasted all day. I had no flaking or transfer. With an average retail of $7.50, you really can't beat it, this performs as well if not better than some of my mascaras in the 15-20 range!
Have you ever tried these items? I would love to hear from you!