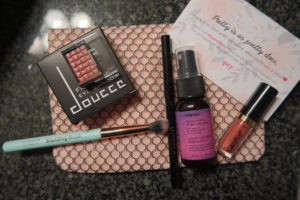 What I received:
Eva NYC Mane Magic 10-in-1 Primer
Tarte Cosmetics Tarteist Quick dry matte lip paint in Delish
Elizabeth Mott Blending Brush
ModelCo- Eye Define Retractable Crayon Liner in Black
Doucce Freematic Eyeshadow in Marsa
EVA NYC MANE MAGIC 10-IN-1 PRIMER: I have mixed emotions about this one. I wash and style my hair once a week but co-wash twice a week. This product claims to have the ability to replace your heat protectant, reduce drying time, detangle, reduce frizz, saving you vanity space with all of its benefits. It is safe for all types of hair and treatments. This is supposed to be magic potion for your hair. Reasonably priced on Ulta's website normally 12.00 but reduced to 9.00. Perfection right? Wrong.
THE GOOD: So I noticed when I leave my hair curly this is wonderful. It does not replace all of my styling products but does a wonderful job at detangling and laying down the first layer of moisture. I still have to use gel or mousse to keep my hair from looking like I stuck my finger in a socket. It smells wonderful, there is a light perfume scent that fades away when the product dries.
THE BAD: I have to question the products ability to reduce drying time. My hair does not air dry faster nor does it reduce drying time with my blow dryer. Also, I noticed that when blow-drying my hair this leaves it on the frizzy side, I really have to go in with a flat iron after to smooth things out. If you are sensitive to fragrance then the light perfume scent I raved about above, may irritate your senses.
OVERALL: If you are in the market for a great detangler/leave in conditioner then this would make an excellent addition to your routine. However, I do not believe that this has the ability to replace a lot, or all of the products most women use for styling. Let's be real, if it was truly that magical this would be closer to $50 a bottle, not $12. Not a bad buy overall but nothing to go crazy running to the store for.
TARTE COSMETICS TARTEIST QUICK DRY MATTE LIP PAINT IN DELISH: Liquid lipstick can be tricky, the colors never apply/dry the color they look in the tube, often the wear time is disappointing, some accentuate cracks because they are overdrying while others never dry properly, some applicators suck and often the formula just isn't right making application a nightmare.
THE GOOD: First and foremost, I LOVE this color. As usual, this applies/dries darker than the color you see through the tube. The color I received is everything, it doesn't accentuate the yellow tint to my teeth (thanks to my love for coffee).  The formula goes on smooth and dries quickly without accentuating cracks in your lips. It is not overly drying. I get almost a full days wear out of this one, full of eating and drinking. I only had to touch up mid-day to get a full day worth of coverage. Did I mention they are CRUELTY-FREE?!?! <3
THE BAD: I have only tried the color Delish, so I can not talk about formulation for the other colors. I have always been more of a lipgloss kind of girl so I never went crazy for lipstick or liquid lipstick. After receiving a few in my last ipsy bags, I can see what all the hype is about. I would like to try some of the other colors, but later down the line as they run $20.00 a pop and I refuse to use the applicators at stores (YUCK!)… and swatching on your hand doesn't always show the same as it does on your lips!
OVERALL: I can see why so many women are a fan of liquid lipstick and this line in particular. I have always had fairly positive experiences with Tarte Cosmetic products. I think if you look at the overall cost of lipstick vs, this liquid lipstick, this is a really good buy, considering the amount of wear time you get out of each application vs. the size of tube. I would recommend anyone interested in a new lipstick try this out. The hardest part is finding a shade that is flattering because they never look the same on as they do the tube (but you could get an idea of what they might look like by watching swatch videos on YouTube).
ELIZABETH MOTT BLENDING BRUSH: I am always on the hunt for my next great brush, what girl isn't?  I love receiving brushes in my Ipsy bag!!! The brushes alone often exceed the price of the bag :). I am totally obsessed with this one.
MODELCO- EYE DEFINE RETRACTABLE CRAYON LINER IN BLACK: I used the whole pencil up in 3 weeks! This is not my favorite. It doesn't stay in place through the day which is why I used it up so quickly. Also, the formula is very stiff/dry and it pulls at your eye with application. Not my favorite, wouldn't purchase; especially considering there are way better options at the drugstore.
DOUCCE FREEMATIC EYESHADOW IN MARSA: I really like this eyeshadow- you get a lot of color payoff, it works great wet, or dry. It also has magnets on the back so it is ZPallette ready! There are a lot of people selling theirs, unused on eBay so you have a chance to snag this gem for under $3.00!!!
I really enjoyed my March Ipsy bag. The April bag just came in through the mail… now time to dig into those goodies!
Interested in trying a bag out? GET YOUR BAG HERE!