If you aren't into story times then this is probably not the first post you want to start with, come back next week. But if you like unscripted reality stories then this is a pretty good one of a woman who went from fat to fit, to fat.
I was born and raised in Queens, N.Y. The perfect city for commuting by foot, I got exercise every day.  Moved to Florida in 2007, a state that isn't an ideal place to commute by foot. Some travel by bike, but I found myself driving everywhere! My average weight in NY was 150. Florida living caused a steady creep up to 194! I fluctuated while from 2007-2010 because I still went to the gym when I could. However, 2010-2011 was a very stressful period of my life. I worked full time from 8-5 and went to school full time in the evening from 6-10. Weekends were spent doing homework and studying for the LSAT. I packed on the most weight during this period of my life.
Gradu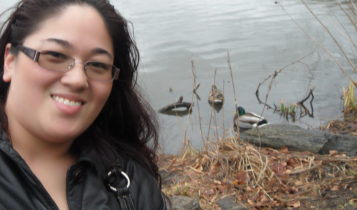 ation came in 2011 and as my classes came to an end I finally had some time to breathe, or so I thought. I had a few major wake up calls before graduation. You see I am 5'6″, at this point I was 194 lbs. and my heart condition (a mitral valve prolapse that causes a murmur) started to make itself more apparent.  One day after walking less than 1/4 mile to get Chinese food at lunch, my calves were sore. I was only 27 and disappointed with the physical state of my body. The company I worked for took part in something called the "Corporate Run". Companies from across south Florida would participate in a 5k. The race was in March 2011. I knew I wouldn't be able to run the whole thing, but I just wanted to finish, that was the goal! I felt incredibly sore for the next few days. I just couldn't get my act together and before I knew it, another 2 years passed. I managed to lose some weight during this time and hovered around 175-180.
Early 2013 I got the itch to make changes. The months leading up to your 30th birthday will do that to a woman! Around Ma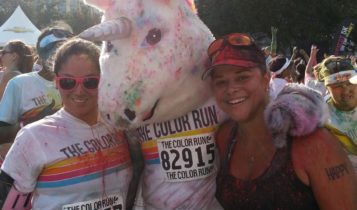 rch, a friend convinced me to sign up for a 5k. Having seen the progress she made I felt inspired to do the same. I was still smoking on and off. I smoked daily ages 13-24, and socially thereafter, up to this point. After downloading C25K and starting out on my running journey, I quickly decided just to give up cigarettes. I jogged and walked this run. Despite struggling through it, I felt better than I had in year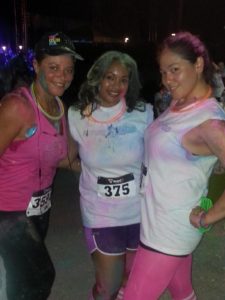 s and I was hooked!
I quickly enrolled in my next race, the Neon Vibe run. I had until June to train and I made  it a goal of mine to run as much as I could.  I didn't run the whole thing straight but I felt stronger than I did my last race. More importantly, I was with two women who inspired me and encouraged me to push harder.
While training for the Neon Vibe Run I started to feel strong.  I thought it was a good idea to enroll and train for a half marathon (even though I still have not managed to run 3 miles straight). No 10ks for this girl, go big or go home! So I enlisted my two besties (imaged right) and together we started to train.
Oh b
ut wait… it doesn't end there.  Once I started to train for our half marathon goal,  a bigger goal developed ( I still have not managed to run 3 miles straight). Remember that "go big or go home"? While watching YouTube one night I found a documentary on Dick and Rick Hoyt and felt inspired. I wanted to do an IronMan! So I in August 2013, I bought this bike!
Having my goals set in my mind, I trained harder than I ever have before. In September, I ran my first 5k without stopping! This was not a typical 5k either, it was "The King of the Hill". There are no hills in Florida, unless if you are running over a man-made one. (and this one is massive).. which just so happens to be an old garbage dump.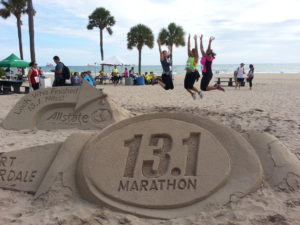 In November 2013, we completed our first half marathon!!!! Our times sucked, but in the end, it didn't matter. This was our first half marathon and a great benchmark for the future ones to come. I think I did this one in like 2 hours and 40 minutes.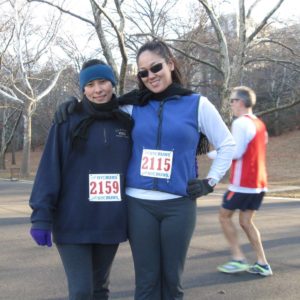 Running became a full blown addiction! December 2013, I did my first run in NY. My cousin joined a running club and found a "hot cocoa run" I finally got my 5k time under 30 minutes and a cool mug in the process 🙂 !
In January 2014, I participated in a charity ride with the only woman I know crazy enough to do it with me! We had never ridden our bikes this far before. There were shorter distances available but I convinced her to ride out the long course with me. I figured it would be good to feel the distance for my IronMan race later that year! It was a difficult ride and I am so grateful that she did it with me! 66 miles later we were tired… but felt like we could do anything!
February 2014, another Half Marathon in the books!!! I made a lot of progress in a short period of time and got my time down from 2 hours 40 minutes in November 2013, to 2:15!!!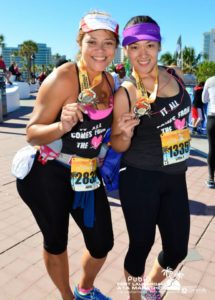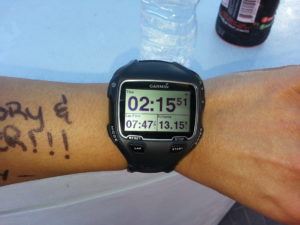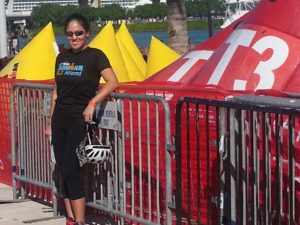 My 30th birthday came and went… Training was still going smoothly and I felt confident that the IronMan would be a breeze. I had friends and family come down to Miami for the event on October 26, 2014 (this day will forever be burned in my memory).  My cockiness got the best of me and I failed horribly. I was pulled from the water in the swim. I felt so defeated. Months and months of training wasted. I felt embarrassed. I broke down emotionally because that's all that was left to do. I didn't want to do much of anything or talk to anyone.
I sat
in darkness for a week. And then a fire re-ignited deep in my soul and I refused to let a year of training and pain go to waste! I enrolled last minute in the Miami Man half iron, which took place in November. This race was tough. It rained from beginning to end. I don't know if you know what it is like to be in wet clothes for almost a whole day… let alone run a half marathon in wet shoes! A part of me was happy that it was raining because it helped me stay cool on the course.
I refused to fail again and placed second in my age group!
Training for an IronMan got me in the best shape of my life!
***DO NOT SCROLL PAST HERE IF YOU ARE AT WORK!***
*
*
*
*
*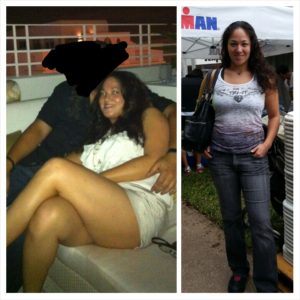 I had loads o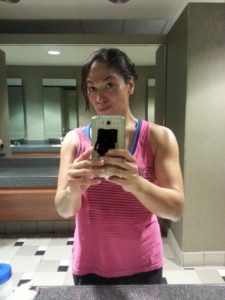 f energy and self-confidence. I felt amazing and thought about setting new goals. Focusing more on weight training but still keeping up with endurance training.
Unfortunately, training for an IronMan put a major strain on my relationship. So I made the decision to stop. I moved in with my boyfriend and with no race to train for, lost all motivation. I continued to go to the gym, but I didn't train with the same intensity… because there was nothing to train for. Two moves and another state later, here I am in Ohio.
During the many moves, I got certified as a personal trainer and health coach. I had a website for it and company set up but am not accepting clients at this time because I feel like a hypocrite. Who am I to tell people how to lead a healthy lifestyle when I have clearly not taken the advice I give. But have no fear… the fire for that is re-ignited in me and just like my IronMan story… I plan to come back better than ever (and better able to relate to my clients).
I am not posting a current picture because I am ashamed. Ashamed that I let it get this out of control.
February 2017: At the current moment I weight in at 182.7 and over 30% body fat. Realizing I need something to train for I asked my close family and friends for race suggestions. I have always wanted to do a full marathon… so "go big or go home", right? My brother and his friend were gracious enough to get me a spot for the Marine Corps Marathon. I am so stoked and nervous all at the same time. I have until October to train and I wanted to document it. So if you're interested in following and learning then bookmark this page and stay tuned :).
I will post weekly progress updates and reviews on supplements I am taking. This isn't my first time at the rodeo but there are so many new products available that I thought it would be fun to go through them with you all.
*I am tracking my physical progress and not posting, yet. I will most likely do a video compilation once I feel comfortable or when October rolls around, whichever comes first.