Field Roast Chao Slices- Tomato Cayenne
So I have always had an obsession with regular cheese… Vegan cheese has come a long way. Over the last few years, there have been some amazing developments in flavor and texture. With more people turning to a plant-based lifestyle, I am sure things will only continue to improve!

Taste/Texture: This is the thing about vegan cheese that can turn some people off. I hate to use this as a description but the slices are kind of rubbery. Again, vegan cheese does not have the same texture as regular cheese. But the taste totally makes up for it with this one. This has to be the best vegan cheese I have ever tried! You can totally taste the tomato and the spice from the peppers. If you aren't into super spicy, have not fear… this is very tolerable. If you like pepper jack cheese and tomatoes you will absolutely adore this! On its own this cheese is wonderful, it would be even better on a sandwich. I did not get the chance to melt this one down as I ate it all before I even thought to try. I will update and edit this post when I get my hands on another pack. I promise I will try melting a slice or two.

Price: @ 5.49 for 10 slices, this is definitely a splurge. Despite loving the flavor, I don't think this will make the weekly shopping cart. If you had some company over, had plans for a really special sandwich, or had some cash to burn I would recommend picking this up!

Availability: I have only seen this stocked at my local Whole Foods Market. There are other health food stores in my area and they don't carry this brand/line.

Overall: 10/10 I would definitely recommend this one and would totally purchase this again. I don't think that this would be passable for real cheese with a meat eater, but they might give it another try because the flavor is that good! Again, if you like pepper jack cheese and tomato then this is for you!

This review is not sponsored in any way. The opinions expressed belong solely to the writer. I went to Whole Foods and picked up everything you see in the cart below.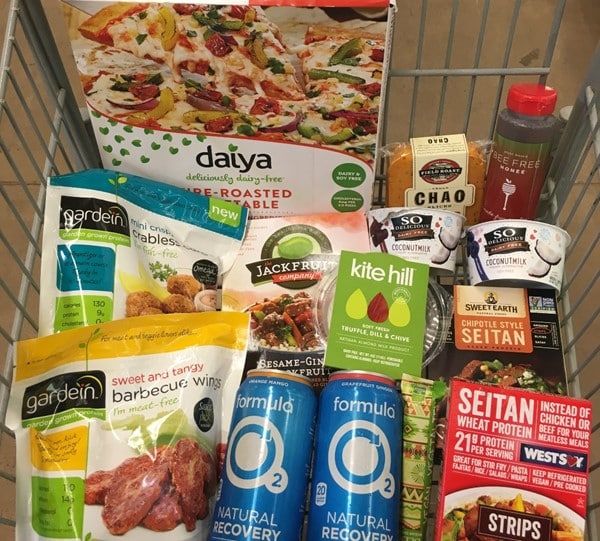 If you haven't checked out my YouTube what are you waiting for??!?!?! I did a Vegan Taste Test which included the product above and a few others. If you do decide to check it out here is the thumbnail and list of products with video time to skip ahead:

Video Link: https://www.youtube.com/watch?v=bByn8Ns35eI

Time:

Formula O2 Natural Recovery Orange Mango- 2:40

Daiya Fire-Roasted Vegetable Pizza- 555:30 & 5:14

Formula O2 Natural Recovery Grapefruit Ginger- 15:20

Jackfruit Co- Sesame Ginger- 17:18

Sweet Earth- Chipotle Style Seitan: 19:00

Gardein- Crabless Crab Caked: 21:00

Gardein- Sweet and Tangy BBQ Wings: 22:50

So Delicious- Blueberry Coconut Milk Yogurt: 27:00

So Delicious- Chocolate Yogurt: 28:40

Kite Hill- Truffle Dill Chive: 30:00

Field Roast- Chao- Tomato Cayenne: 33:20

Go Veggie- cheese: 36:01

Bee Free Honee: 36:30

Belvas- 82% Dark chocolate with almonds: 40:20