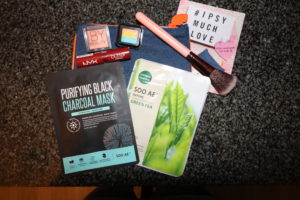 Items received:
SOO AE Sheet Mask Duo
NYX Butter Lipstick in Lifeguard
IBY Beauty in Bubbly
Elizabeth Mott "Whatup Beaches" Matte Bronzer
Luxie Brush #514
SOO AE Sheet Mask Duo: I received the Charcoal one and Green Tea sheet masks. These are a fun way to spruce up your skin care routine. The charcoal mask is touted to detox and hydrate your skin, while the Green Tea one is supposed to help fight signs of aging and inflammation. Unfortunately, I only received one of each in my monthly bag so that isn't really enough to do a full review. I can say that my skin felt hydrated after :). Detoxified or younger looking… that is kind of a stretch off of one mask. I found these online at places like Target and Walmart. Average retail is 2.80… not bad but I have never been a huge sheet mask fanatic, so you won't catch me running out to purchase these again.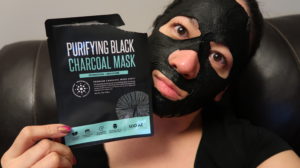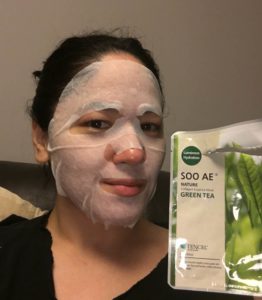 NYX Butter Lipstick in Lifeguard: When I saw the preview I really hoped to receive the other color. The formulation of this is great, as the name implies it is buttery smooth. You also get a great glossy effect.. ohh.. and did I mention this is very hydrating?!?! I will give it another try when I feel a little daring but this red is just a little too bold for me. Thankfully, there are a ton of other shades to choose from. A great stop for this is at Ulta $5.99 and a huge assortment… what more could you ask for? I will definitely purchase this in a different color, soon:  ULTA- NYX BUTTER LIPSTICK
IBY Beauty in Bubbly: A beautiful, easy to wear highlight. This one came just in time because I was in the market for a new highlight. Build-able light color, a great option for someone looking for a more natural shine.  This is also really pretty on lids as well. Because this is a repeat offender for those subscribed to birchbox and ipsy, you can find it on a steal over at eBay! Retailing for $12.00, you can steal it on eBay for around $5.00: eBay- IBY Beauty in Bubbly
Elizabeth Mott "Whatup Beaches" Matte Bronzer: This is an awesome bronzer/contour color. I love the portability of the trial size because it is more than enough to last for a while unless you are a bronzer/contour junkie… then you might want to spring for a full size! I can see a lot of people falling in love with this one because it doesn't leave you looking orange. Thankfully, this one is easy to try before you buy for a very reasonable price. There are a lot of people selling small trial sizes over on eBay for less than $2.00: eBay- Elizabeth Mott in Whatup Beaches
Luxie Brush #514: Affordable, cruelty-free, ultra soft… count me in! I have always been a fan of Luxie Brushes. I received the 514 brush which is great for blush, contour, heavy duty performer for anywhere on your face really. I have other brushes that I prefer for highlight and contour so I find myself using this to sweep translucent powder on and off from my under eye region. The bristles are super soft so it just made sense to me. This retails on the companies website for $18.00… but like with the other mentions, you can steal this on eBay for as low as $3.00!!!!! : eBay- Luxie Brush # 514
Are you an ipsy subscriber? What did you get??? Want to see what all the hype is about? GET YOUR BAG HERE!