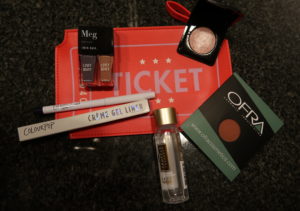 What I received:
Ofra Blush in Rendezvous
Skin&Co Roma- Truffle Therapy Face Toner
Meg Twin Nail Polish in Lovey Dovey
Hikari Cosmetics- Cream Pigment Eyeshadow       in Honey Dew
ColorPop Cosmetics- Creme Gel Pencil in DTLA
Ofra Blush in Rendezvous: This blush is a real multitasker! I love putting this in my crease area in addition to using it as a blush. The pigment is great and it goes on smoothly. I am definitely a fan. The item came ready to pop into a ZPallette. If you don't have a ZPallette, have no fear, you can always use a metal tin with nothing covering the bottom layer so the magnets have something to adhere to.
Skin&Co Roma- Truffle Therapy Face Toner- New skin care products always make me a little nervous. I have VERY sensitive skin that is prone to breaking out when irritated. Having no experience with this company I was prepared for the worst. The fluid smells very tropical with its coconut smell. I felt a slight tingle while using this without a sting. I used the bottle up in two weeks and I can happily report that it did not cause any breakouts or excessive drying. If I was in the market for more toner, I would totally purchase this (but I stocked up on my favorite Mario Badescu on the last sale, so I won't need more for some time). Overall, excellent product.
Meg Twin Nail Polish in Lovey Dovey- You get a very neutral cream color that is barely noticeable, even with multiple layers it isn't very pigmented- great for anyone who is into neutral colors. The other color included is a beautiful purple/gray color- This is a very big contrast to the neutral color included and would be awesome for the cooler months. You could use the two together for a dark tipped french manicure, reverse manicure, or for a pop of color on one finger with nude nails. The formula wears great and I got a full week without major chipping. Overall great product.
Hikari Cosmetics- Cream Pigment Eyeshadow in Honey Dew- I get the most use out of this product- it makes an excellent cheekbone highlight, eyebrow highlight, inner corner highlight! This is also something you can pop into a ZPallette. The color is nice and creamy and ultra pigmented. Very blendable and buildable color- for those who like sheer or blinding coverage.
ColorPop Cosmetics- Creme Gel Pencil in DTLA- This is the only product that gave me a little disappointment. ColorPop is known for having some amazing products and while this wears for a long time without smudging, it is not a creamy/easy to apply color. The formula is very waxy which creates tug on the eye with application, there is still some tugging after the product warms up. There is a lot of feedback on the ColorPop website stating the same concerns. A lot of customers stated that the lighter shades are not as hard to apply.
Overall, the bag this month was excellent as usual. As expected, the value far exceeds the price of the monthly subscription. If you are interested in trying any of the items listed above, you can always find them on eBay for a deal. I wasn't too crazy about the design of the bag, but it would be cute to use if you went out to a carnival.
Interested in seeing what all the hype is about ?- GET YOUR BAG HERE!
Already an Ipsy bag subscriber? What did you get?