Daiya Fire-Roasted Vegetable Pizza
Dear Daiya: I love your cheese. I don't know how you did it but you have almost re-created the taste and mouth feel of regular cheese…. Your pizza is pretty freaking fantastic too! Okay, so you don't have to be a vegan or vegetarian to appreciate this one. But If you happen to fall into said category then this product gives reason to rejoice for the progress that has been made with plant based options! Also, while we are on the topic- please note that I am not a vegan, or vegetarian. I do follow a high carb/low fat diet and generally only consume meat once a week.
Taste/Texture: If you are anything like me and like your pizza on the burnt side you should know that this gluten free crust will not bubble and blacken to your typical liking. This is not to say that it is bad. I left mine in for an addition 10 minutes over the recommended cooking time. The outside of the crust got nice and crunchy like I wanted, the bottom of the pizza had a nice firm crispness to it. I baked the pizza on a flat baking pan, please let me know if you have had better results using a pizza pan. The cheese did not melt like regular mozzarella would. If you didn't look at the pizza and just took a bite you would never know that there was vegan cheese on it. For a final view of the cooked product please check out my YouTube video- link and times of products are listed at the end of this. I don't know if the texture was affected by the fact that this is a gluten free pizza as I do not have any other frozen gluten free pizzas to compare it to; but the layer between the bottom and "cheese" was king of gummy.

After a few bites I didn't mind the texture at all, it was similar to the taste of a Stoffer's Grilled Vegetable French Bread pizza (which I absolutely adore). I no longer noticed the gummy layer and got lost in the wonderful flavor that is this pizza. The sauce is slightly sweet and not very heavy on the pizza. If you like the flavor of grilled vegetables, this pizza will not disappoint in the flavor department.

Price: @ 9.99 per pizza- This is a great option if you are craving pizza. There are a few takeaway places that charge around 2.00 less for a pizza, but do you know what in it? This pizza is a pretty safe choice for anyone with major common allergies

INGREDIENTS

Gluten-free crust (water, tapioca starch,brown rice flour, white whole grain sorghum flour, potatostarch, olive oil, cane sugar, milled flax seed, yeast, psyllium,sea salt, xanthan gum), tomato basil sauce(water, tomatopaste, olive oil, onions, basil, salt, garlic, xanthan gum, spices),Daiya mild mozzarella style shred (filtered water, tapiocastarch, non-gmo expeller pressed canola and/or non-GMOexpeller pressed safflower oil, coconut oil, pea protein isolate,salt, inactive yeast, vegan natural flavours, vegetable glycerin,xanthan gum, lactic acid (vegan), titanium dioxide (a naturallyoccurring mineral), yeast extract), roasted red onion,roasted green bell pepper, roasted yellow bell pepper,roasted tomato, roasted garlic, basil.

http://daiyafoods.com/our-foods/pizza/fire-roasted-vegetable/

I think it is a very high quality convenience product for the price.

Availability: This like many other plant based options is readily available at Whole Food Market and other similar health focused markets. I have noticed that this line of frozen pizza has become more available in local general grocery stores. To avoid the hassle of having to drive all around town; Daiya has a wonderful product locator on their website. You can find stores that carry their products and further filter the search to look for a specific product: http://daiyafoods.com/find-us/where-to-buy/

Overall: This has made my top 10 list. I would definitely purchase this one again. While recording my video I initially gave it a 8/10 but I ended up eating the whole thing before going to the gym (it was that amazing) so I have to bump this one all the way up to 9.5/10. The only thing that would have made this a 10/10 for me would be if the entire crust crisped up all the way through. Again, I used a regular baking sheet, please let me know if you have better luck using a pizza pan or stone.

This review is not sponsored in any way. The opinions expressed belong solely to the writer. I went to Whole Foods and picked up everything you see in the cart below.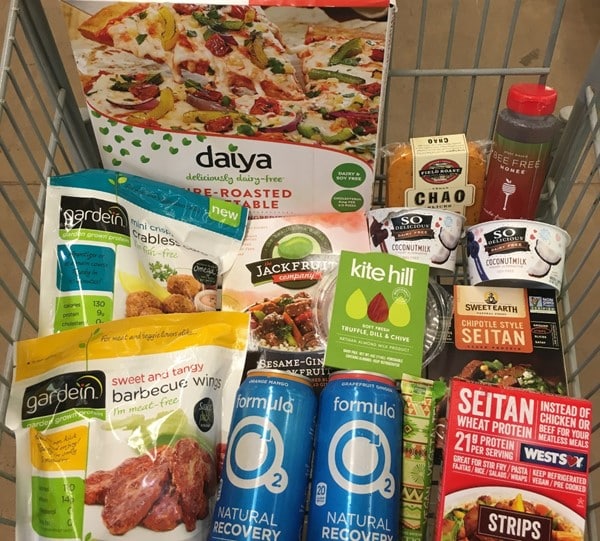 If you haven't checked out my YouTube what are you waiting for??!?!?! I did a Vegan Taste Test which included the product above and a few others. If you do decide to check it out here is the thumbnail and list of products with video time to skip ahead:

Video Link: https://www.youtube.com/watch?v=bByn8Ns35eI

Time:

Formula O2 Natural Recovery Orange Mango- 2:40

Daiya Fire-Roasted Vegetable Pizza- 555:30 & 5:14

Formula O2 Natural Recovery Grapefruit Ginger- 15:20

Jackfruit Co- Sesame Ginger- 17:18

Sweet Earth- Chipotle Style Seitan: 19:00

Gardein- Crabless Crab Caked: 21:00

Gardein- Sweet and Tangy BBQ Wings: 22:50

So Delicious- Blueberry Coconut Milk Yogurt: 27:00

So Delicious- Chocolate Yogurt: 28:40

Kite Hill- Truffle Dill Chive: 30:00

Field Roast- Chao- Tomato Cayenne: 33:20

Go Veggie- cheese: 36:01

Bee Free Honee: 36:30

Belvas- 82% Dark chocolate with almonds: 40:20